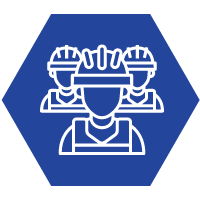 At Multi-Craft Contractors, we know that you'll find your calling in commercial construction. You'll be part of a team that shares your passion for the work, and we'll help you grow your career in a way that lets you take the lead on the projects that matter most to you.
We have journeyman and senior-level career opportunities available now! We're looking for candidates who want to work on a variety of commercial construction projects, including everything from new construction to remodels. Our focus is on quality, value, and customer service—and our employees are treated like family.
We offer competitive wages and benefits. If this sounds like a place where you can thrive professionally and personally—and be an integral part of something bigger than yourself—we want to hear from you!
In order to encourage and develop our people, we've laid out the potential paths ahead for aspiring craft professionals. The career progression of this profession is not always set, as you have a lot of options to consider. So, if you're interested in pursuing a path in construction, here are just some of the ways you can advance your career.
Do you have questions about your
 Career Path in Construction?
Let's connect!