---
From Concept to Completion
LET'S DISCUSS HOW WE CAN ASSIST YOU.
At Multi-Craft Contractors, we bring our clients' vision to life with a comprehensive approach that begins with innovative planning and extends throughout the project lifespan.
Multi-Craft Contractors partners with clients across Northwest Arkansas and Missouri to take on the most complex challenges. We pioneer innovative solutions to improve project performance and minimize downtime.
Through trade expertise, innovation, and technical excellence, Multi-Craft Contractors, Inc. delivers flexible solutions with the highest safety standards from a single source.
Enhance efficiency, quality, safety, and cost-effectiveness with MCC's comprehensive in-house capabilities. Contact our manufacturing automation experts to transform your operations, regardless of your product.
Unlock MCC's TURNKEY ADVANTAGE: a team of 750 Engineers, Project Managers, Planners, Foremen, and Craftsmen, representing twelve trades, dedicated to your success.
Count on MCC 24/7/365, whether it's pre-planned projects or Emergency Services. We prioritize critical scheduling to ensure you have support when it matters most.
Got an idea but lack the resources to bring it to life? Partner with MCC, specialists in collaborating with entrepreneurs to develop and manufacture new equipment. 
Need something not readily available? Let MCC's engineers collaborate with you to define and Engineer it to Order, tailored to your specific requirements.
Struggling to find time for proper equipment maintenance? Consider a Service Contract with MCC—an ideal solution to keep your equipment in top shape.
With years of experience in private-label manufacturing for the Pharma, Biopharma, Food, Beverage, and Chemical industries, MCC is your trusted partner.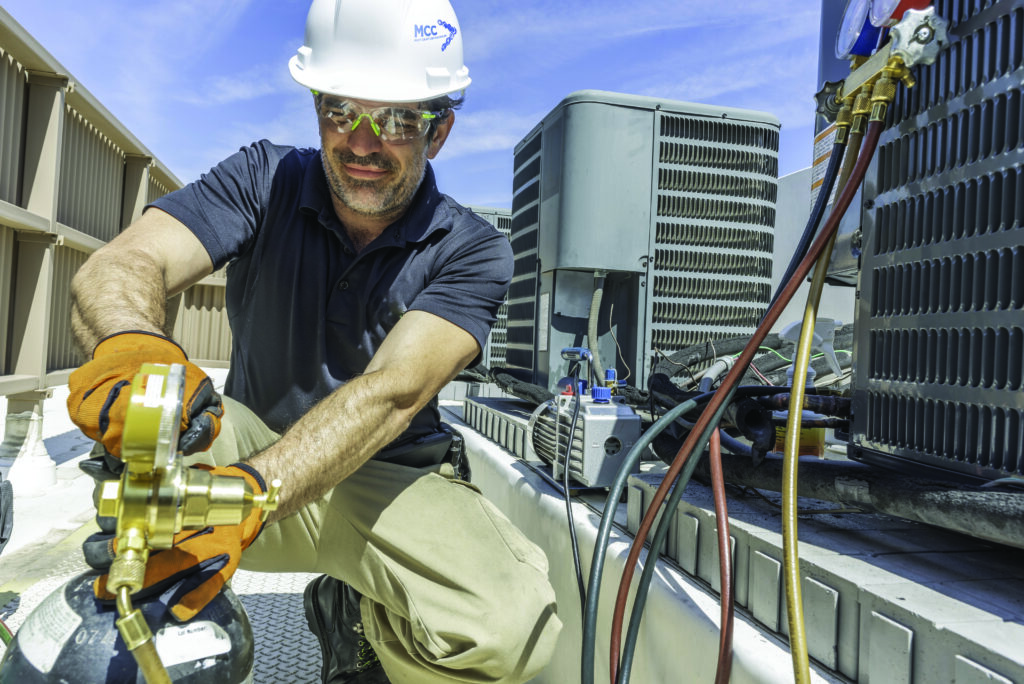 We Offer Planned Maintenance Programs!
HVAC – Plumbing – Electrical and more…Help improve the efficiency of your core building systems!
During the trying times of the Coronavirus, there is still work that must be done. Here at Rockline, we have a very important product to the public and is a necessity. Global Engineering takes safety to an extreme high for public safety and our employees, and I see the same with Multi-Craft Contractors. During the high demand times for our product, we had two large projects that needed to be done simultaneously, and in a time frame that seemed to be unimaginable. I have been at Rockline for many years and have seen many contractors come and go during my tenure at Rockline. I have had 100% success and met the timeline with MCC every time.
Rick Watkins Eng. III
Project Lead, Rockline Industries
"I wanted to let you know how much I appreciate your immediate response on Friday night to get me to your service dept, and that I was able to speak with a live person. Your staff showed up bright and early Sat morning to get us started and stuck with us all weekend in order to get us back to functioning. They were bombarded by some staff but they were very patient and helped them out and answered their questions. I just wanted to let you know that I very much appreciate it as does OCH. It's great to get such excellent service!!
THANK YOU and your team!!!"
Julie Beaver
Director of Facilities, Ozarks Community Hospital
The project team benefited greatly from Multi-Craft's extensive knowledge regarding fabrication and detailing. Multi-Craft was able to take the concepts and expediently bring them into reality. With their technological capabilities, facilities and knowledge, Multi-Craft worked with SWA and the Walmart team to provide multiple near-instantaneous mock-up pieces of the various 'arc' pattern designs for review, comment and approval. Multi-Craft did not promise anything beyond what they knew they could deliver (with quality) and were professional from initial contact through completion.
Jeremy Klemic, PLA, ASLA
Associate Principal, SWA Los Angeles