Trenching and excavation work can be extremely dangerous in the construction industry. At Multi-Craft Contractors, we take the safety of our workers very seriously. That's why we recently participated in OSHA's May Safety Stand Down to educate our team on the importance of trenching and excavation safety, and the dangers of trench collapses. In this article, we'll discuss why safety is crucial in these hazardous operations, and our unwavering commitment to keeping our workers safe on the job.
Trenching and Excavation Safety 
The US Department of Labor reported that 39 workers died (1)  in trenching or excavation work in 2022. This is more than double the number of workers who lost their lives in 2021. "Every one of these tragedies could have been prevented had employers complied with OSHA standards," said Assistant Secretary for Occupational Safety and Health Doug Parker. Parker continued. "There simply is no excuse for ignoring safety requirements to prevent trench collapses and cave-ins, and leaving families, friends, and co-workers to grieve when the solutions are so well-understood."(2)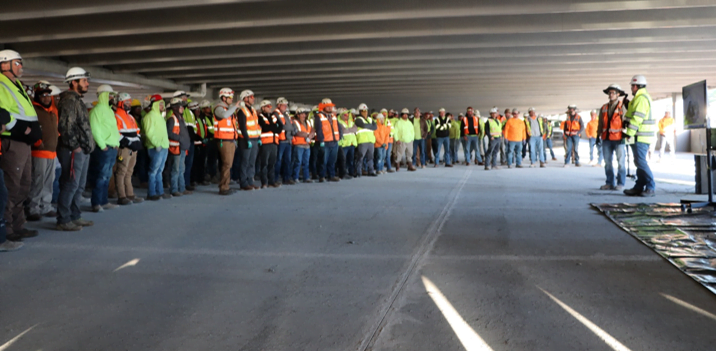 During OSHA's May Safety Stand Down, Multi-Craft Contractor's Safety Department presented the dangers of trench collapses, the challenge of trench rescue, and the importance of not putting yourself in that situation to 380 construction workers from multiple companies building the Walmart Home Office Campus.
To demonstrate the challenges of trench rescue, we buried our rescue mannikin under one foot of topsoil and asked two volunteers to uncover Rescue Randy's head so he could breathe. We invited our audience to put themselves in Randy's place and see if they could hold their breath until his face was uncovered. Spoiler alert: They didn't, and you can't!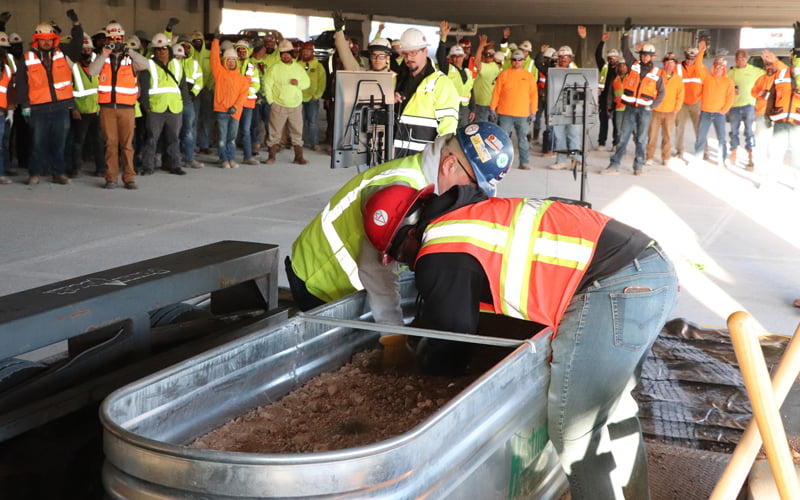 When it comes to trench safety, prevention is everything because there is no time once a collapse starts. The team stressed the following do's and don'ts for working safely in trenches and excavations, such as:
The Do's
Receive training when working in trenches/excavations.
Have a trenching/excavation competent person onsite.
Some key numbers to remember.

2' minimum from the lip for spoil piles
4' or deeper require ladders or ramps for egress
5' or deeper (or if there is a potential for cave-ins at a depth less than 5') require Benching, Sloping, Shielding, or Shoring
25' furthest away from a protected egress point
The Don'ts
Get into an unprotected trench/excavation.
Get into trenches/ excavations with standing water or other hazards.
Get into trenches/ excavations that have not been properly inspected.
Disclaimer
This post does not contain comprehensive information on OSHA's regulations for Trenching and excavation. For more information, please visit OSHA's trenching and excavation webpage. https://www.osha.gov/trenching-excavation