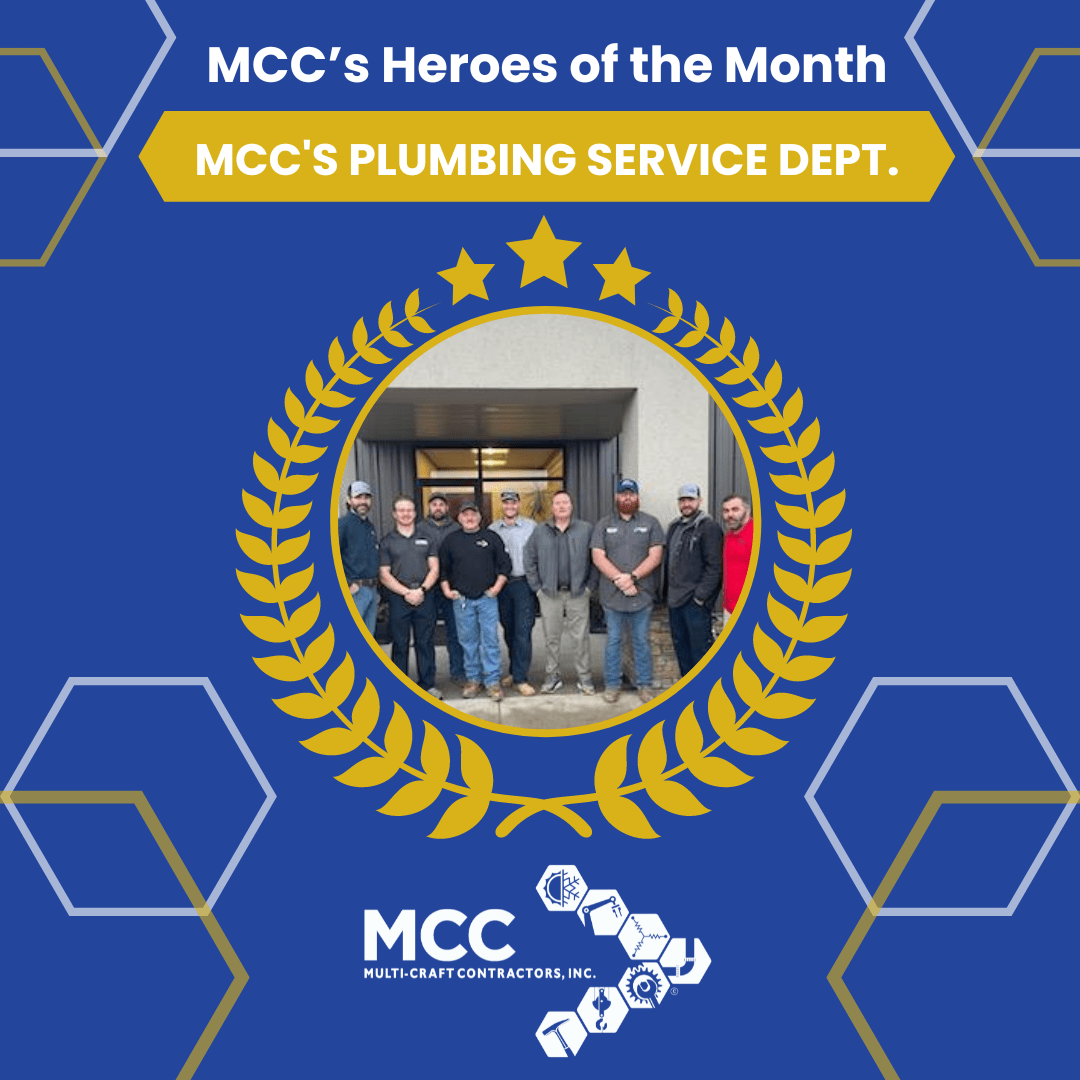 We are proud to recognize them as MCC's Heroes of the Month! 
In late December 2022, Northwest Arkansas experienced a record-setting cold spell and MCC's Plumbing Service team received a barrage of emergency calls from businesses experiencing plumbing issues that included frozen and burst pipes and the potential of costly water damage.
Chris Goeller was the on-call plumber for the Christmas weekend as the freeze moved in and he knew they were going to be busy. With multiple service calls already scheduled and the potential for more emergencies, they geared up and set out to help as many of their customers and businesses in need as possible. They knew that there was no time to lose when it came to getting customers' emergency repairs done, so the team proceeded to cap off frozen pipes and unfreeze them so the customers could get back to business as quickly as possible.
Capping off the water lines that had burst from freeze damage stopped the flow of water through that particular section of pipe which helped prevent any further damage. Thawing frozen pipes was also key to getting customers back up and running again. It prevented the expansion of the frozen water and helped to stop the pipes from bursting. It also helped restore the flow of water through the pipes which was necessary for maintaining the plumbing system's integrity and functionality.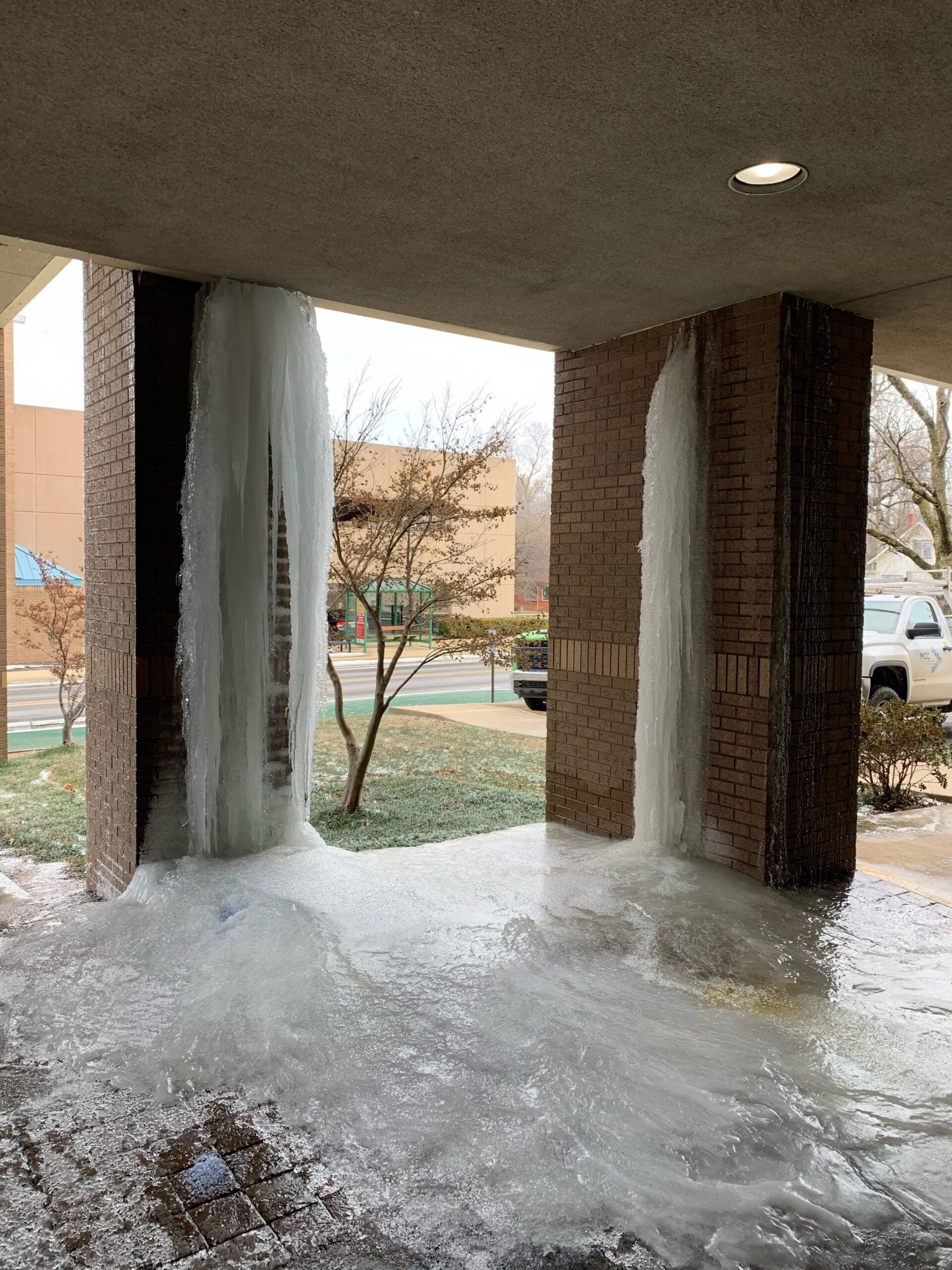 But Chris and the MCC Plumbing Service Crew didn't just stop at thawing pipes. They went above and beyond and offered advice and tips to customers specific to their facilities on how to prevent their pipes from freezing in the future (See a few of those tips below!). 
As the temperatures remained below zero, calls for help continued to pour in. The Plumbing Service Team continued to help as many people and businesses as possible. They knew that helping customers in those moments was crucial to keeping their businesses safe and operational.
We're so proud of Chris Goeller and MCC's Plumbing Service Crew!
This story is a testament to the commitment that Chris Goeller and the entire Service Team have to our customers—and to their work—that they were able to provide them with such quality and timely service when they needed it most. It's also a testament to how much we at Multi-Craft Contractors value our customers. When a customer calls us in an emergency situation, we know that they are depending on us to get back to them quickly with solutions that will get them through difficult times. Like Chris, our employees take that responsibility very seriously.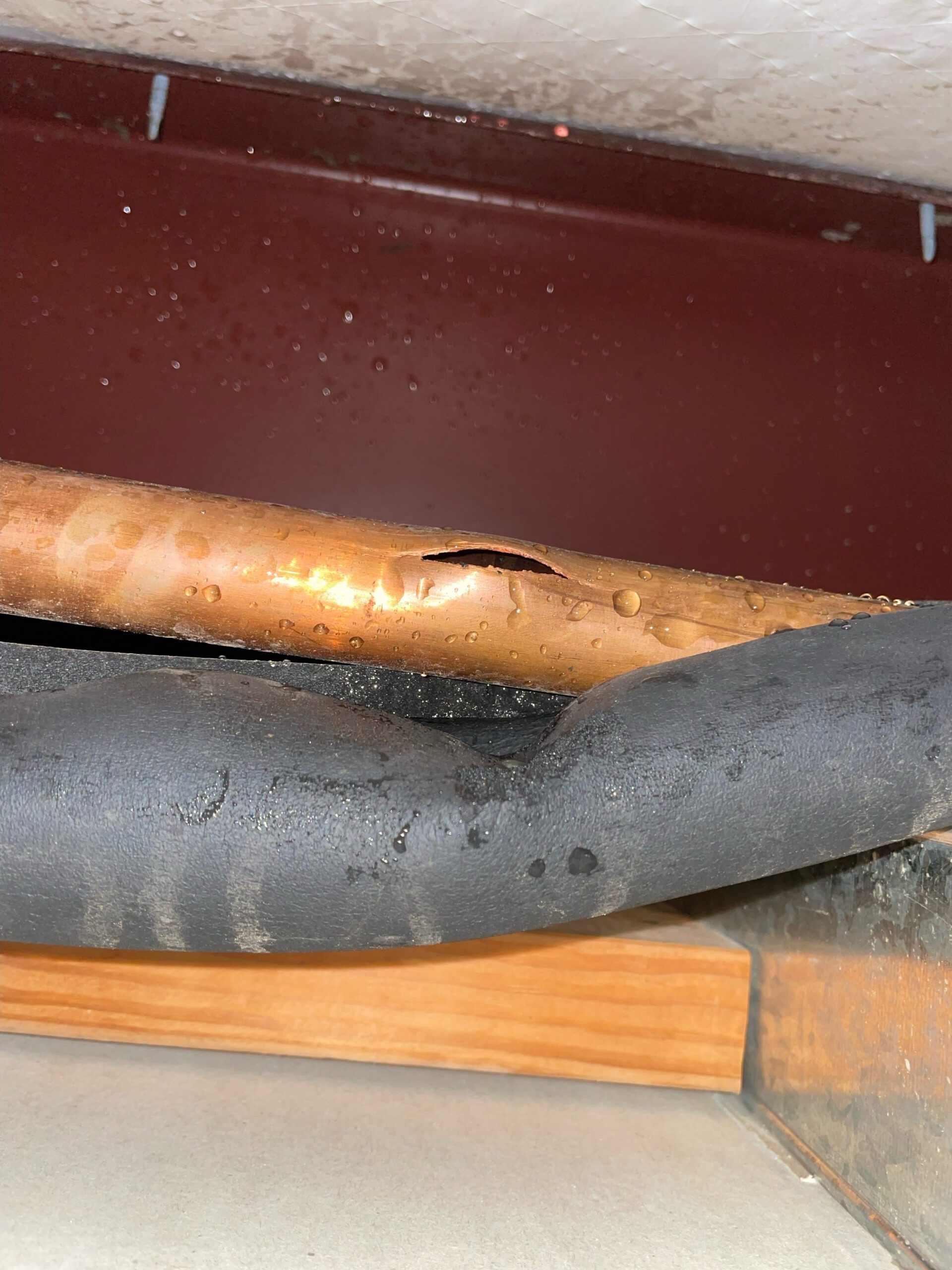 Proactive Tips for the Possibility of Frozen Pipes. 
MCC's team of service plumbers are professionals who can help prevent and repair frozen pipes, but it's important to understand the steps you can take to prevent them from freezing in the first place. 
Steve Gorder, the Service Plumbing Department Manager, was asked about some tips for being proactive when the threat of freezing exists. Here are just a few:
Properly Heat Your Building
When water freezes, it expands and can cause pipes to burst. This can lead to costly repairs and water damage. To prevent frozen pipes, it's important to keep your building heated to at least 55 degrees Fahrenheit, even when you're not there. If you'll be away for an extended period of time, consider turning off your main water supply and draining your pipes to prevent them from freezing.
Insulation
You can also take additional precautions by insulating your pipes and sealing any cracks or openings in your building's exterior. It's also a good idea to keep your faucets dripping during cold weather, as the moving water can help prevent pipes from freezing.
Act Quickly
If you do end up with frozen pipes, it's important to act quickly. Plumbers can help thaw the pipes and fix any damage that may have occurred. 
Don't Thaw if You're Unsure
It's important to note that attempting to thaw frozen pipes yourself can be dangerous if not done properly. If you're unsure of how to proceed, it's best to call a professional plumber such as Multi-Craft Contractors for assistance.
Preventing frozen pipes is crucial for protecting your building and avoiding costly repairs. By taking a few simple precautions, you can help prevent the damage caused by frozen pipes and keep your business running smoothly all winter long.
If you need Emergency Plumbing Services - Contact Multi-Craft Contractors today!