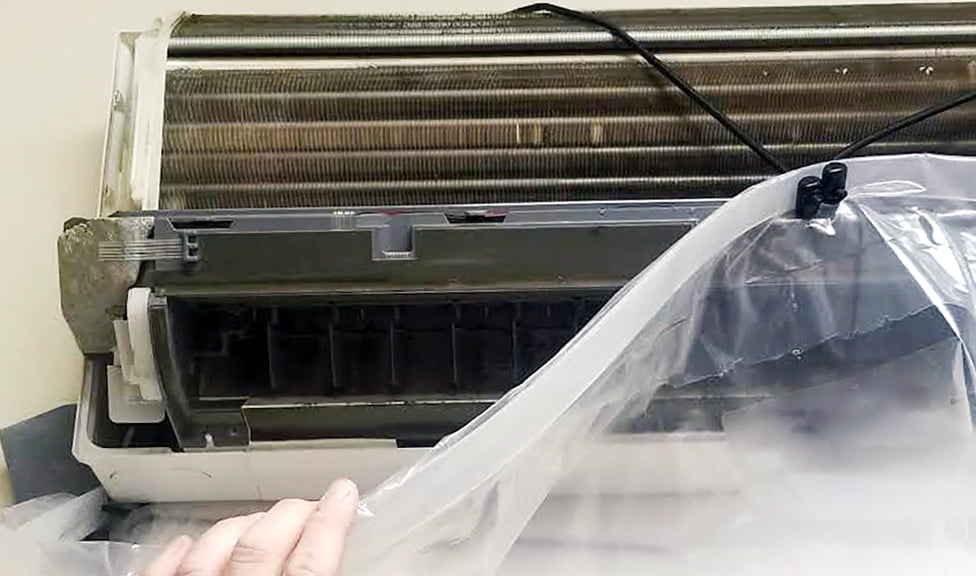 Ductless mini-split air conditioners are an efficient cooling solution – but they'll only remain that way if maintenance is performed regularly. Ductless mini-split systems are also a scalable way to cool specific rooms of your building. 
The good news is that mini-split ACs are relatively easy to maintain because they're so small. But don't forget to follow the recommended maintenance schedule as it will ensure a longer life of your unit, which means less costs in repairs and replacements.
Mini-splits should be maintained on a similar schedule as your commercial HVAC systems. Whether visibly dirty or not, a dirty mini-split system may cause a variety of health problems. Aside from being a good location for microorganisms and other bacteria to thrive - it's an excellent environment for mold (and who knows what else) to grow. With air constantly circulating through the unit into your building, the unsanitary air may be sent into other common areas of your building.
Did You Know That Ductless Mini-Split Air Conditioners Have a Filter? 
It's true! This filter cleans the air as it passes through, ensuring that your building stays cool and comfortable all year long. If you don't change this filter regularly, though, you could be compromising the efficiency of your AC unit and wasting energy.
Air filters are a key component of your mini-split system. They help eliminate dust and pollen, which can negatively impact performance. Proper cleaning and maintenance will extend the life of your system and improve efficiency.
If you want to get the most out of your ductless mini-split air conditioner, then it's important to remember to replace your filters on time and keep them clean. We recommend changing your filters every three months during the summer months and every six months during the winter months.
The Importance of Regular Maintenance
Although all commercial HVAC systems benefit from regular service and maintenance, it's also essential to give your ductless mini-split system regular maintenance attention. Make sure to partner with a reputable HVAC contractor that specializes in the installation and maintenance of ductless mini-split systems to help ensure your system is serviced properly.
To help operate efficiently, mini-split systems need air circulation to flow freely around the indoor and outdoor components. It's also important for regular filter cleanings to help to keep the unit running optimally and avoid costly damage to the components. Dirty filters may cause additional problems with your system's ability to cool an area properly - especially if it is clogged with debris. The system will work even harder as it pulls in air to get it to your desired temperature.
Here are Some Ways Maintenance May Help Prevent Costly Repairs:
Have the condenser coils cleaned regularly:

This will help ensure the condenser has enough airflow to function properly, which means it will run more efficiently!

Have the filter changed every three months or so (depending on how often you run your unit):

The filters trap dirt and dust from entering inside the system – but if they become clogged with too much stuff, they can't do their job effectively anymore! 

Check Airflow patterns, including proper superheat:

Make sure that your unit is properly maintaining the flow patterns in your ductwork and making sure there is enough superheat to protect the unit from freezing.
When Was Your Mini-Split AC Unit Last Maintained?
If you're not sure, then it's time to contact Multi-Craft Contractors! Ask about how this service could be included in a customized Planned Maintenance Program! Mini-split systems that haven't been maintained properly may have an impact on your business operations. Discover how your business could benefit from a customized Planned Maintenance Program - and then you'll have one less thing to worry about! It's time to contact Multi-Craft Contractors today!
About Multi-Craft Contractors
If you are looking for an HVAC mini-split service company in and around Northwest Arkansas - and even Springfield, MO area, Multi-Craft Contractors is here for you! We have been offering expert HVAC maintenance and repair to the area since 1972. Let us help improve the efficiency of your air conditioning system with cost-effective solutions from Multi-Craft Contractors!
Contact Multi-Craft Contractors today!