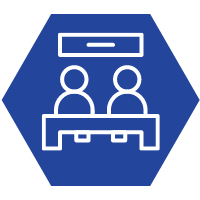 At Multi-Craft Contractors, we believe that everyone has the potential to be part of the exciting world of commercial construction. That's why we offer multiple career opportunities for people with different skill sets.
We have Staff Support Career Opportunities, but not for just any jobs. We have opportunities that will help you find your career path in commercial construction.
When you work with us at Multi-Craft, you'll be working with people who are just as excited about the prospect of making a difference in our communities as they are about the idea of getting out on a ladder and helping our clients build something amazing. We believe in community building and creating relationships built on trust and respect—and that means we want to give back by creating jobs for people who share our values and want to help us build things that last.
What could your career look like at Multi-Craft Contractors? Click the button below to explore careers.
In order to encourage and develop our people, we've laid out the potential paths ahead for aspiring craft professionals. The career progression of this profession is not always set, as you have a lot of options to consider. So, if you're interested in pursuing a path in construction, here are just some of the ways you can advance your career.
Do you have questions about your
 Career Path in Construction?
Let's connect!