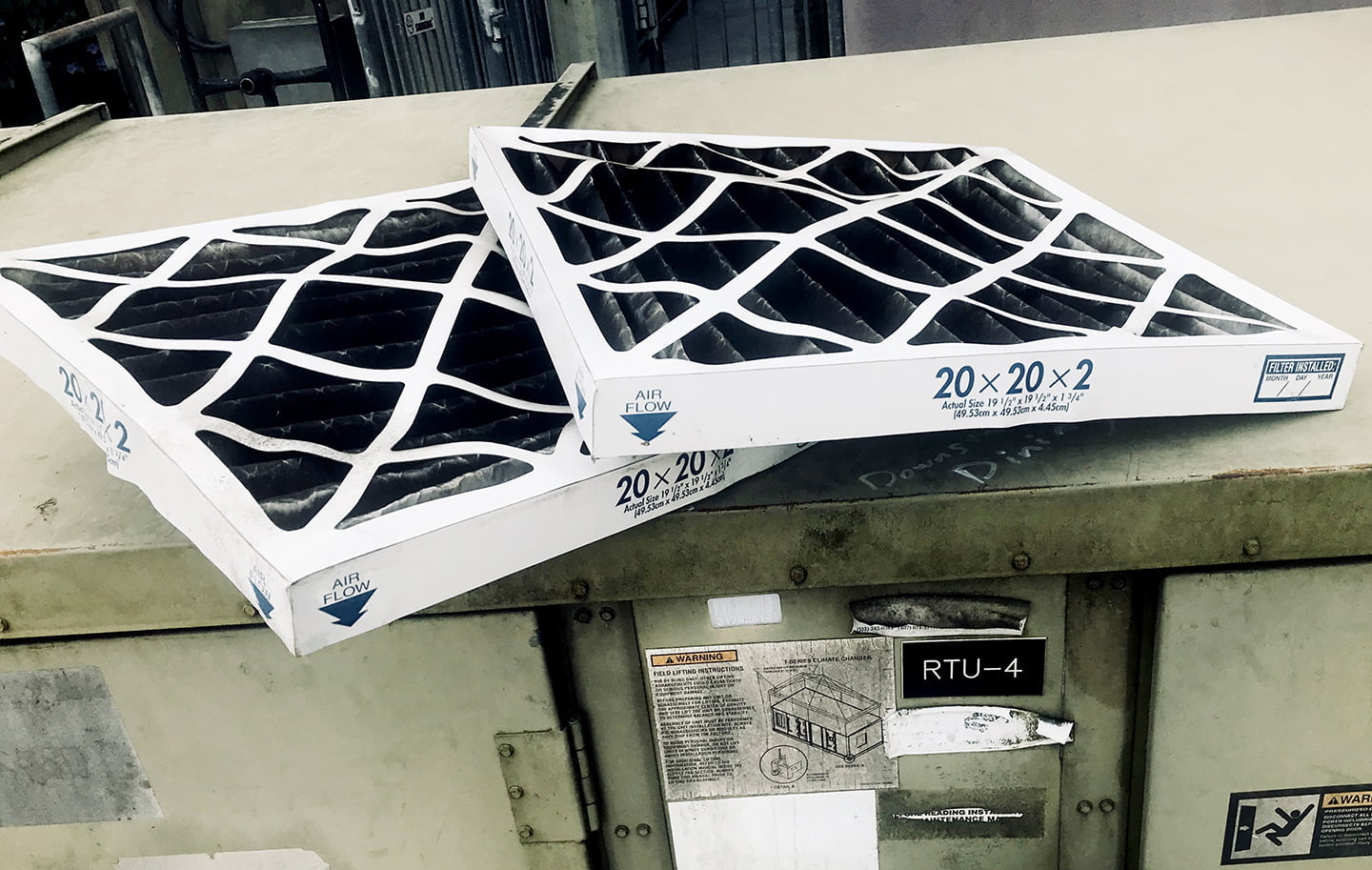 Is it dusty inside your building?
Do your eyes water when you're inside?
Maybe it's a bit stuffy inside?
Concerned about how clean the air inside really is?
Dirty Air Filters are a Common Source of Commercial HVAC System Problems
Air filters can help reduce the number of allergens, dust, and other irritating particles that are in the air. These particles can be circulated throughout your building by your HVAC system. New air filters help to create an added barrier of protection. Also, by making sure you have a new air filter, you can help make sure your HVAC system is running efficiently.
Dirty Air Filters Can Cause Problems
Dirty filters can put added stress on your HVAC system components which may shorten the life of the motor or clog the evaporator coils. Changing the air filters helps to prevent the need for expensive repairs.
How often should commercial air filters be replaced?
It's a common question for those who service and maintain commercial systems and equipment, but the short answer is… "it may depend".   The quality of the indoor and outdoor air is significant to this determination. In certain indoor environments such as data centers, where the air is constantly being circulated and often times supplied directly into the heart of the very expensive and critical machinery (such as servers, blades, and data storage devices), the quality of the air may not seem like an issue until you consider that particles in the air that are not removed can settle on the components that are intended to be cooled and cause operational problems for the servers you are trying to protect.
For very active environments such as healthcare facilities, hospitals, government facilities, or educational buildings, you may need to schedule a maintenance inspection for additional filter changes and examine the latest technology that has been recently developed for sanitizing the air circulating through your facility.
Air filters that are dirty and full of debris affect airflow, which leads to inefficient system operation, and in some cases, equipment failure. Partnering with an experienced commercial HVAC service provider by enrolling in a Planned Maintenance Program to set up a filter replacement calendar is an excellent way to help ensure your HVAC system and equipment function efficiently and less expensively.
When Was Your Air Filter Last Replaced?
Not sure? Then it's time to contact Multi-Craft Contractors today!
About Multi-Craft Contractors
Our talented multi-discipline teams and resources are unique in this industry. Not only can we provide routine maintenance and repairs, but Multi-Craft Contractors' technicians can diagnose mechanical issues and even self-perform the most complex mechanical retrofits. These retrofits are quickly and efficiently completed using our in-house craftsmen. We have the ability to tap into specialty resources not available to other contractors and can meet your needs and solve your problems "From [Project] Concept to Completion".
Contact Multi-Craft Contractors today!