Pioneering Commercial and Industrial Solutions
Multi-Craft Contractors specializes in a wide range of mechanical system services to help you keep your property running smoothly. Our goal is to provide you with quality workmanship, excellent customer service, and a commitment to safety, reliability, and affordability.
Mechanical Design-Build Services
At Multi-Craft Contractors, we understand that when retrofitting or expanding your facility, there are many complex factors to consider. With our Mechanical Design Build Services, you can rest assured that we will take care of all the details so you don't have to. From Concept to Completion, our team of experts will ensure that your project is completed on time and within budget. Our services include:
Designing and building mechanical systems from concept through installation

Performing inspections and testing of existing systems during renovations

Providing energy conservation analysis during design phases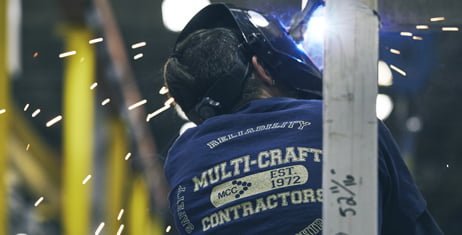 We pride ourselves on being a leading provider of innovative mechanical systems for commercial and industrial facilities. We're dedicated to providing businesses with the latest and most advanced mechanical systems available.
Here are some of the key benefits of choosing Multi-Craft Contractors:
Advanced Solutions: Multi-Craft Contractors uses cutting-edge technology to provide businesses with state-of-the-art mechanical systems. From HVAC systems to plumbing systems, Multi-Craft Contractors has the expertise and experience to provide customized solutions for any commercial building.
Expert Installations: Our technicians are trained in the latest mechanical systems and installation techniques. This means that businesses can trust Multi-Craft Contractors to install their mechanical systems with the highest level of precision and accuracy.
Energy-Efficient Solutions: Multi-Craft Contractors understand the importance of reducing energy costs and reducing carbon emissions. That's why we offer a range of energy-efficient mechanical systems that can help businesses reduce their energy usage and minimize their environmental impact.
Maintenance and Repair Services: Multi-Craft Contractors offers maintenance and repair services for all the mechanical systems we install. This means that businesses can count on us to keep their mechanical systems in top working order for years to come.
Quick Response Times: We understand that time is of the essence, especially when it comes to mechanical issues. That's why we offer quick response times and flexible scheduling to meet your needs and minimize downtime.
Quality Workmanship: At Multi-Craft Contractors, we pride ourselves on delivering top-quality workmanship and attention to detail. We use the latest techniques and technologies to ensure that our work is efficient, effective, and long-lasting.
Industries we Specialize in
We take pride in our attention to detail and commitment to customer satisfaction. Our goal is to provide you with a seamless experience, from initial consultation to final completion. Our expertise allows us to offer our customers a wide variety of services that include:
Process piping

Mechanical equipment and components installation

Mechanical equipment and components repair and maintenance

Process piping and industrial piping, fabrication, and installation

Pipe fabrication

Millwright services

Welding
We specialize in commercial industrial mechanical projects for industry tries such as:
Manufacturing plants


Warehouses, and distribution centers



Power plants

Water treatment facilities

Food processing plants


Chemical plants



Steel mills

Pharmaceutical facilities


Electronics manufacturing plants

Pharmaceutical facilities


Electronics manufacturing plants and more 
Contact us today to schedule a consultation and see how we can help keep your business running at its best. We look forward to serving you!
Would You Like to
Learn More About Our Services or Schedule a Consultation?
Fill Out the Form Below to Contact us!